Yes, more fanmix :) My (and
deadsies's ) fanmix journal is in the works so you won't be burdened with all this musical spam soon.

Medium: Books
Fandom: The Handmaid's Tale by Margaret Atwood
Subject: Offred/Nick
Title: I Told Him My Real Name
Notes: I just read The Handmaid's Tale for the first time and I loved it. I especially loved the dynamic between Offred and Nick and the palpable tension between them. I liked the idea of him keeping her a bit sane, the two of them having as much of a normal relationship as was possible in their situation, his jealousy, her mixed feelings...just made of win. Enjoy.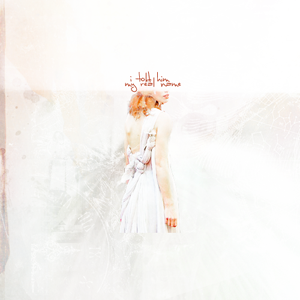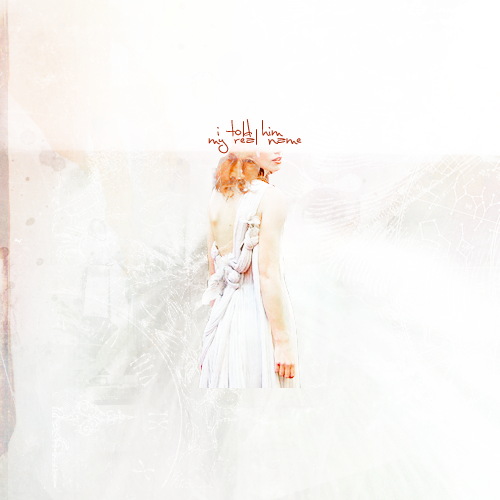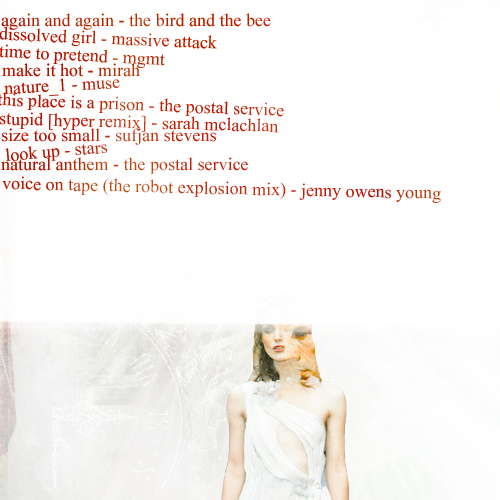 again & again - the bird and the bee (nick/offred)

Its a shame, its a shame, its a perfect shame.
Creep under my door, and we do it again, oh.

Its easy and easy and easy and easy
And creepy and creepy and creepy, oh
Again, again, again, again.

dissolved girl - massive attack (offred)

Shame, such a shame
I think I kind of lost myself again
Day, yesterday
Really should be leaving but I stay

Say, say my name
I need a little love to ease the pain
I need a little love to ease the pain
It's easy to remember when it came

'Cause it feels like I've been
I've been here before
You are not my savior
But I still don't go

time to pretend - mgmt (offred & nick in gilead)


Forget about our mothers and our friends.
We were fated to pretend.
....
But there is really nothing, nothing we can do.
Love must be forgotten. Life can always start up anew.

make it hot - mirah (offred)

The door is jammed
The door slammed shut
And i wait for the sound
Wait for the sound

There is one addiction
I like to keep the power and the heat

Make it hot
Take me over and over and over

nature_1 - muse (nick)
You are
A natural disaster
And I've wanted you too much
And now I'm gonna lose
I've wanted you too much
And now I've gotta choose
....
Like a broken damn you're empty
And all that's left are the sticks and stones
That were built by other people
And it really shows

this place is a prison - the postal service (offred & the commander's deal)

Ther're guards at the on ramps armed to the teeth
And you may case the grounds from the cascades to puget sound,
But you are not permitted to leave

stupid [hyper remix] - sarah maclachlan (nick's jealousy, offred's fear)

how stupid could I be
a simpleton could see
that you're no good for me
but you're the only one I see


size too small - sufjan stevens (offred/nick)

And what if I told you
I was still in love with this?
Would you surprise us
in a size for all of me?
I still know you.
And I still like you, the best man.

look up - stars (offred/nick)

youre cold, maybe you just missed the sun
you fall, feeling like its just begun
so far keeping it togethers been enough
but look up: the rain is falling, looks like love
your boy is like a memory
with some sense of touch and a melody
your girl, shes a renegade
a hurricane that keeps you there, safe

natural anthem - the postal service (nick, as seen by offred, post luke)

I'll write you a song and I hope that you won't mind
Because all the names and places I have taken from real life
So please don't be upset at this portrait that I paint
It may be a little biased, but at least I spelled your name right...


voice on tape (the robot explosions mix) - jenny owens young (offred's escape with nick's help)

I want you back and forth
I want you up and down
I want you inside out

I've got your voice on tape
I've got your words in me
I don't want anything else
I don't want anyone else

I Told Him My Real Name.ZIP